Maison L'Envoyé, 'The House of the Messenger,' tirelessly explores the finest sites dedicated to the cultivation of Pinot Noir. We strive to craft wines that not only sing of their origins, but are also delicious in their own right.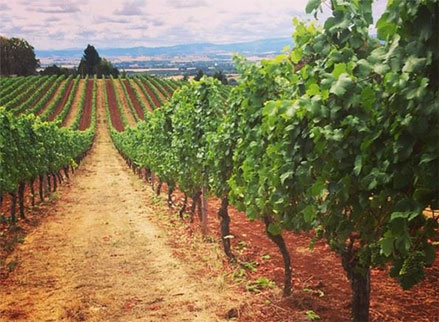 Driven by a tireless hunt for elusive sites where Pinot Noir shines, Maison L'Envoyé traverses the globe with the intention of presenting the acme of regionality and winemaking styles. With winemaking footprints in Burgundy and the Willamette Valley, Oregon, we champion many unsung growers who have farmed their vineyards for decades and generations, some mere feet away from more illustriously cited neighbors. This project has been a standout since our debut in 2011 including Wine & Spirits naming Maison L'Envoyé a 'Winery To Watch' in 2015.

Originating in Burgundy, we pursued gilded terroir to craft this region's grape trinity: Pinot Noir, Chardonnay and Gamay Noir. Yet from this tenor of focus and commitment a global fellowship emerged, with terroir-driven Pinot Noir as the linchpin. In Burgundy, our winemaking team is based in the town of Beaune, drawing from several sites including our own monopole, Chateau Vivier, in Beaujolais' Fleurie cru. In Oregon's Willamette Valley, carefully selected rows of Pinot Noir are sourced from both volcanic and sedimentary based soils primarily in Yamhill-Carlton, Ribbon Ridge and Eola-Amity Hills.
Welcome to our house, we look forward to sharing a bottle with you.
Rethinking Viticulture
Our approach in the vineyard combines tailored viticulture and vigilant diligence. Each growing season and unique block is taken into account. We consider the site, specific soil characteristics, elevation, aspect, rainfall, and vine age. We lean heavily towards organic and biodynamic regimes, with a strict mindset of growing Pinot Noir rather than farming grapes.
Rethinking Winemaking
Many precise and specific winemaking techniques are employed that together produce a soulful and generous expression of the fruit flavors while avoiding any heavy tannin, rough edges or alcoholic extraction. Picking fully physiologically ripe berries, often later than much of the valley, consulting winemaker Louis-Michel Liger-Belair's infusion technique is more akin to steeping rather than an aggressive extraction process.
Mark Tarlov, Founder
Film producer turned vintner, Mark Tarlov became an acclaimed winemaker with his successful first wine venture, Evening Land, which he co-founded and launched in 2007. He teamed up with Old Bridge Cellars in 2011 and shortly thereafter, Maison l'Envoyé was born. In 2014, he was included as one of the 9 People You Need To Know In American Wine Right Now.
Mark's quest to understand what made particular sites so unique and be able to make such memorable wines, led him to great sites for Pinot Noir in Burgundy and beyond. Mark perceived the world of wine very differently to most. His creative genius, restless determination and ability to inspire those around him to look beyond the norm will be long remembered. He lost his battle with cancer in 2021. Maison l'Envoyé will honor his legacy by continuing to produce delicious wines that offer unique expressions from their respective sites.
Old Bridge Cellars, Founder
For some 20+ years, Old Bridge Cellars, led by Rob Buono and Gavin Speight, has imported, marketed and produced wines from a handful of fiercely independent wineries in the world's leading wine regions. Their parameters have remained the same and are, simply, that the wineries they represent remain true to their regions and true to themselves. Fast forward to 2011, when a mutual friend innocently suggested that Gavin Speight meet the then stranger, Mark Tarlov, for lunch. It didn't take long for the two to get fired up and interested in working together in Burgundy. Immersed in a religion of Pinot Noir, so to speak, their drive has evolved to make regionally expressive Pinot Noir from the best vine rows around the world.