While Pinotphiles have keenly monitored Oregon's evolution for decades, it seems the greater wine world has just awakened to regard its temperate climate and ancient soils as a hotbed for one finicky variety. Sheltered from inclement weather by the western Coastal Range and the eastern Cascade Range, the idyllic Willamette Valley blesses the vines calling it home with gentle conditions, imbuing complex flavors and spirited acidity from a long growing season. Its namesake, the Willamette River, crisscrosses an ancient volcanic and sedimentary seabed overlaid with gravel, silt, and rock. Stewarded by family vignerons with an intimate knowledge of their land, and a new generation of eager winemakers, many are tipping their hats to Burgundy's dynamic, new-world counterpart. The soil types are a combination of ancient marine sediments, younger (ice-age) marine sediments cast from the Missoula Floods, volcanic basalts and loess wind-blown sediments. A mixture of sands, silts and clays that span a geological timeline of 50 million years (ancient marine sediments), 15million years (volcanic lava flows), 500,000-1million years (loess) and 15,000 years (Missoula floods).
Straight Shooter 2017
Willamette Valley
An open, straight shot from Maison l'Envoyé. Handpicked, unadulterated Pinot Noir from pristine vineyard blocks across Willamette Valley. Sorted by single berry in the winery and naturally fermented before given a kiss of oak for texture and balance. Made to drink, not analyze.
More >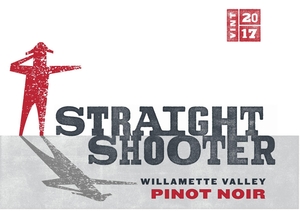 ---
Two Messengers 2016
Willamette Valley
This wine is an overview of the best grapes in Willamette Valley. Exploring the harmony that makes wine so pleasurable, Two Messengers draws from multiple sites and their various personalities. It expresses fresh red cherries scented with floral and forest floor notes.
More >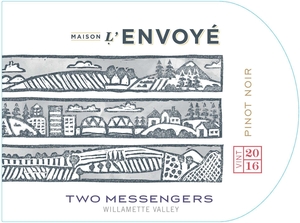 ---
The Attaché 2014
Willamette Valley
A barrel selection of the finest Pinot Noir lots. This wine voices Willamette terroir at its purest, across a variety of vineyard blocks and sub-AVAs. A long, focused core of blue fruits and alluring spice dances across the palate.
More >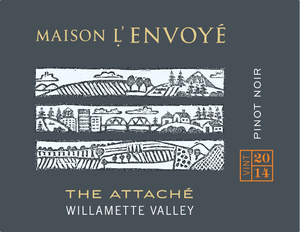 ---